Donating to Breast Cancer Care WA
Donating to charity not only helps others, it makes us feel great too!
Knowing that your donation helps us reach our goal of providing every single person in WA who is diagnosed with breast cancer, free of charge, is a wonderful gift.
As little as $20 can go towards a cleaning voucher; $50 will put a tank of fuel in a client's car; $100 could pay an outstanding utility bill; $200 can restock a pantry or fridge for a client's family, and $500 could help with a mortgage repayment.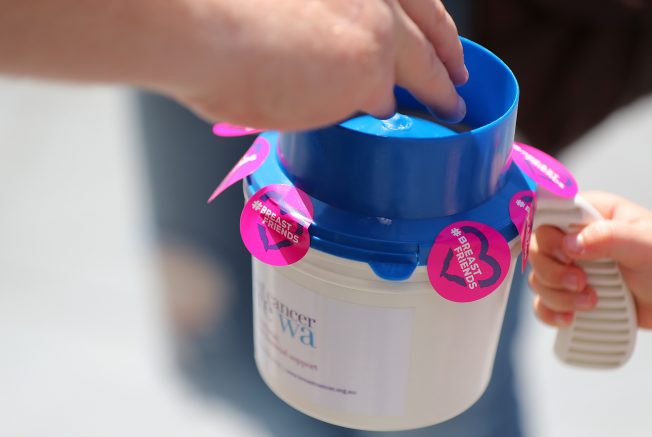 Make A Donation – Breast Cancer Donation – Donate To Charity
Why Choose Breast Cancer Care WA – Best Charity for Breast Cancer Donations
Breast cancer is the most common cancer diagnosed in women in Australia and the second most diagnosed cancer in the overall population. One in seven women will be diagnosed with cancer in their lifetime and approximately one in 700 men. Breast Cancer Care WA supports all people affected by a diagnosis of breast cancer in Western Australia, regardless of age or gender, including partners and family members.
While breast cancer survival rates have improved greatly thanks to early detection, treatments for cancer can be ongoing and have an impact on people's lives for a long time after treatment ends. That's why Breast Cancer Care offers support for as long as it is needed, free of charge, making us the best charity for breast cancer donations in Western Australia.
We receive no government funding, so all of our breast cancer support services are delivered thanks to the generous public who donate money to charity.
What We Do
Breast Cancer Nursing
Breast Cancer Care WA employs specialist breast care professionals that offer invaluable advice and support from initial diagnosis, right through treatment, and beyond. They assist patients in determining risks and creating supportive care plans. They also provide expert advice and information on breast cancer treatment options and physical symptom management. More than that, our experts also give emotional support, liaise with cancer care professionals, facilitate collaborative support from other agencies, and create care plans for breast cancer survivors. Our specialist breast care nurses help patients over the phone, via email, and through home and hospital visits.
Counselling
Counselling is a powerful tool that provides breast cancer patients the opportunity to improve the way they live their life. It helps them face their obstacles and find the right solutions to make the disease as manageable as possible. At Breast Cancer Care WA, our counsellors have the knowledge and experience needed to support metastatic breast cancer patients.
Support Groups
Breast Cancer Care WA runs several support groups that meet regularly to share their experiences and help each other deal with their diagnosis. Support groups are a valuable source of peer support and information. It helps patients understand and set their expectations about breast cancer and how they can survive it.
Financial Hardship Support
Living with breast cancer takes a lot of mental and physical stress. And, it gets worse for a patient that is also in a financial crisis. Breast Cancer Care WA can help reduce the stress by assisting with medical gaps, providing food and fuel vouchers, helping out with general household bills, and other basic necessities. If a patient is in dire need of financial support, our specialist breast care nurses can conduct a financial assessment and refer them to social workers, financial counsellors or the appropriate financial assistance programs.
Therapeutic Workshops
Breast Cancer Care WA holds therapeutic workshops that help clients in exploring their feelings and emotions about living with breast cancer. We have workshops that focus on education, practical coping strategies and problem-solving skills that allow participants to better adjust to their diagnosis. Other workshops also help patients process their experience at a deeper level through the use of clay and art therapy, meditation, and mindfulness.
We Are Looking For Partners
Donating to charity is great for business. Demonstrating commitment to meaningful corporate social responsibility by supporting families in Western Australia experiencing breast cancer has a positive impact on staff and aligns your brand with one of the worthiest charities to donate to.
While it may seem like cancer donations are common, the battle against cancer never stops and requires continuous support. It is still and will probably continue to be one of the best charities to donate to in Australia.
By partnering with us, you don't just feel the joy of helping those in need. When you donate to charity, it improves your organisation's public image, increases your stakeholder engagement, and motivates your employees to produce quality work.
You can support us through donations and workplace giving, volunteering, cause campaigns, networking, or sponsoring our programs or events. Speak to our friendly fundraising team for ideas on how your business can contribute to supporting those affected by breast cancer in WA.