Have a good time for a good cause at our events…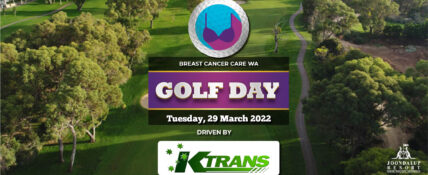 Breast Cancer Care WA invite you to an exclusive Corporate Golf Tournament at Joondalup Resort on Tuesday 29 March. Register today as a team of four for this classic four ball Ambrose event and enjoy networking and playing golf at one of WA's most popular corporate golf days.
This Support Group is held via Zoom to enable youn
For women living with metastatic breast cancer. T
Event information
IGA Purple Bra Day
IGA Purple Bra Day is like our Christmas – and possibly the event we are best known for. Each year, thousands of West Australians across the state don the purple bra and hold their own fundraising event to support families facing breast cancer across the state. You can join IGA Purple Bra Day by signing up at www.purplebraday.com.au, where you'll find loads of resources and fun ideas to fundraise. If you'd like to chat to one of our team about your ideas, call us on (08) 9324 3703.
Jump for Jane
Jump for Jane is a skydive with a difference! Feel the adrenaline of falling 14,000 feet and help those affected by breast cancer in Western Australia. Jump for Jane was started in memory of Jane Loring, a Breast Cancer Care WA board member who sadly passed away from breast cancer in 2013. More details on this Jump for Jane will be posted soon – stay tuned!
Spring Day at the Races
Due to the impact of coronavirus and our concern for our clients, supporters and staff, Spring Day at the Races will not be held in 2020. If you'd like to hold an event in lieu of Spring Day at the Races, please call us on (08) 9324 3703 to talk to our team about your idea.
Long Table Lunch
We were saddened to announce the cancellation of our feature event, Long Table Lunch: Be Part of the Magic due to coronavirus concerns earlier this year. Our first priority is to keep our wonderful community of clients and supporters all safe. The cancellation of this event has had a significant impact on our ability to raise income for this year. If you'd like to donate in lieu of the event, or hold your own Long Table Lunch at home, please ring (08) 9324 3703 to learn more about these options.
I want to hold my own event to raise money for Breast Cancer Care WA!
That's fantastic – and thank you! We'd love to help you. Our organisation simply couldn't exist without the support of people like you. Helping the WA community to hold their own events is the heart and soul of our organisation and remains one of our keys ways to help fund our services at no cost. Please call us on (08) 9324 3703 and we'll give you all the support and lift you need!